Bladder Grabber 2016
Championship match combat action at the 38th annual Bladder Grabber between Ron Colombo (left) and Don Jensen. Flying Lines photo.
AMA Fast Blast
Seven-round Fast Combat tournament, Aug. 6-7, Snohomish, Wash.
And Half A Grabber double-elimination 1/2-A Combat contest, Aug. 5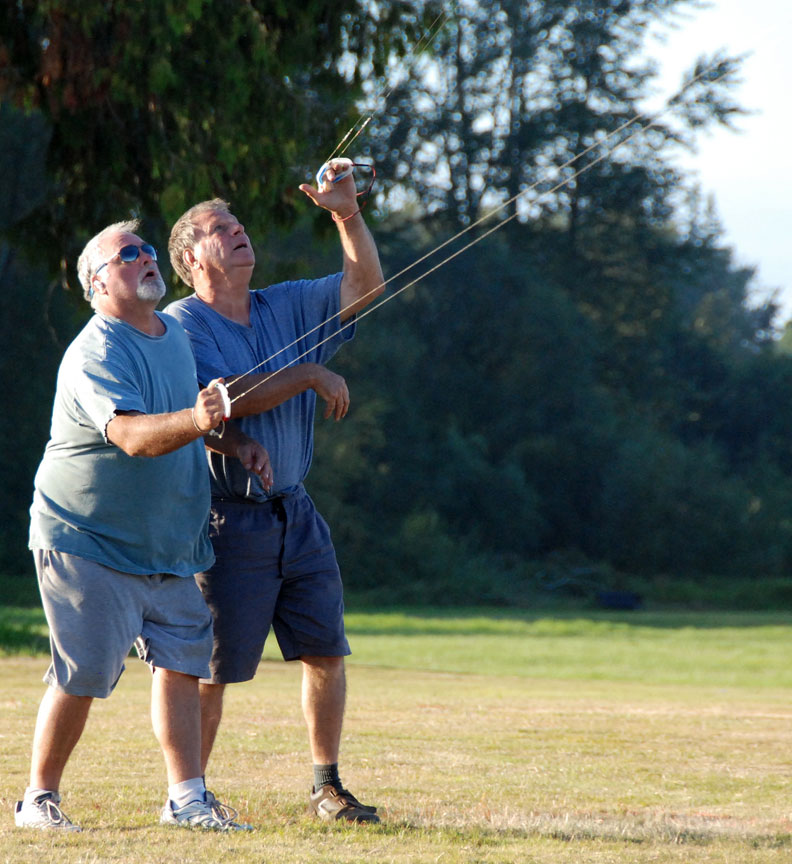 Mike Evans (left) and Robert Smith battle in the 1/2-A Grabber championship final. Flying Lines photo.
Colombo triples as Nats and Grabber champion
Ron Colombo of Dearborn, Mich., became the second flier to three-peat as a winner of the Bladder Grabber fast combat tournament, following up his third straight win in the U.S. National championships.
Colombo had to fight his way into the semifinal after being one of five contestants to finish with 4-3 records in the seven preliminary rounds. After emerging from the flyoff, he beat Jeff Dawson in a semifinal and then Don Jensen in the final. Colombo took home the $1,000 first prize. Jensen carried off a Nelson .36 engine plus a $200 second prize.
The 38th running of the most prestigious AMA Fast Combat contest drew 16 entries to Snohomish, Wash., for fast combat and 17 to the preliminary event, High-Performance 1/2-A Combat. Mike Evans of Cincinnati, Ohio, topped Robert Smith in the 1/A final.
It was another smoothly run contest under the management of Jeff Rein, who was the director and lead judge for the 19th consecutive year, assisted by Tony Huber, Rich Ambler and Don McKay, among other volunteers, plus organizational efforts by Wanda Jensenand several other helpers. Contestants were well fed at lunchtime all three days. Weather was good all three days, a bit windy on Friday but fairly calm on Saturday and Sunday, reaching highs in the mid-70s.
The fast contest format was seven rounds, followed by semifinals and finals; the 1/2-A event was traditional double-elimination.
CD Rein indicated that plans already are under way for the 39th annual Gladder Grabber in 2017.
Final results for the 2016 BLADDER GRABBER Fast Combat contest (Northwest standings points in parentheses):
1. Ron Colombo, Dearborn, Mich.
2. Don Jensen, Pomona, Calif.
3. Jeff Dawson, San Antonio, Texas
4. Mel Lyne, Garibaldi Highlands, B.C. (13)
Other contestants:
Bob Carver, Snohomish, Wash.
Mike Evans, Cincinatti, Ohio
Jim Green, Bellevue, Wash.
John Knoppi, Renton, Wash.
Lee Letchworth, Rodeo, Calif.
Greg Machen, Belfair, Wash.
Gene Pape, Eugene, Ore.
Doss Porter, Fresno, Calif.
Lane Puckett, Merced, Calif.
Robert Smith, Roy, Wash.
John Thompson, Eugene, Ore.
Buzz Wilson, Belfair, Wash.

The scoreboard tells the story of the 2016 Bladder Grabber fast combat tournament. From Don Jensen Facebook page.
Final HALF-A GRABBER results (17 entries) (Northwest standings points in parentheses)

1. Mike Evans
2. Robert Smith (16)
3. Mike Hazel, Mehama, Ore. (15)
4. Mel Lyne (7), Jeff Dawson, tie
Other contestants:
Ron Colombo
Jim Green
Don Jensen
John Knoppi
Lee Letchworth
Greg Machen
Gene Pape
Doss Porter
Lane Puckett
Jeff Rein
John Thompson
Buzz Wilson

Bladder Grabber photo gallery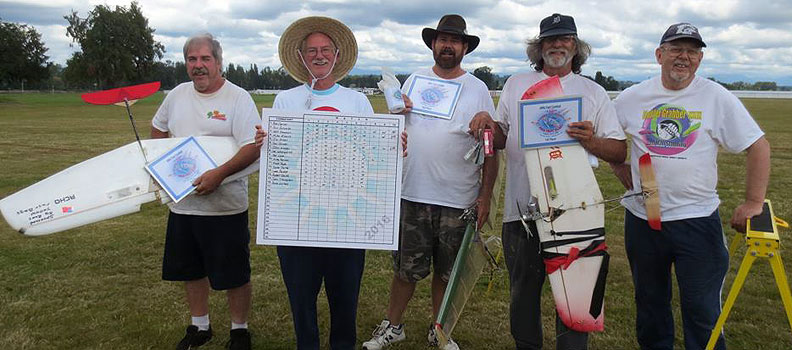 The winners' "podium." From left, Jeff Dawson (third place), Contest Director Jeff Rein, Don Jensen (second), Ron Colombo (first), and Mel Lyne (fourth). From Don Jensen's Facebook page.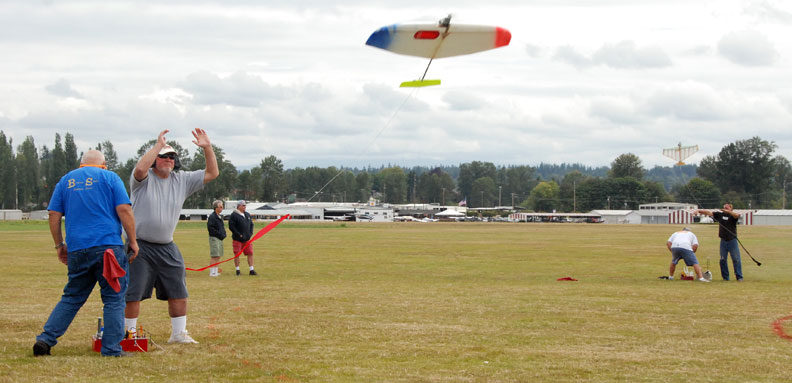 A nearly simultaneous launch in one of the flyoff matches: At left, Mike Hazel launches Buzz Wilson's plane as starter Gene Pape steps aside; at right, John Knoppi launches Ron Colombo's plane as starter Jeff Dawson ducks. Flying Lines photo.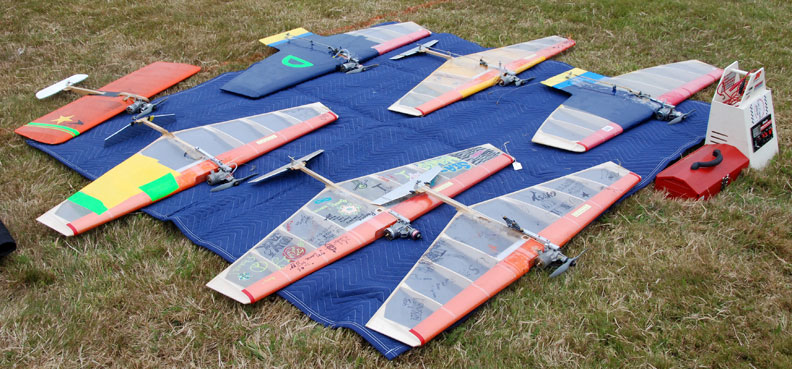 One contestant's colorful fleet of fast combat planes (plus a vintage combat plane for contrast). Flying Lines photo.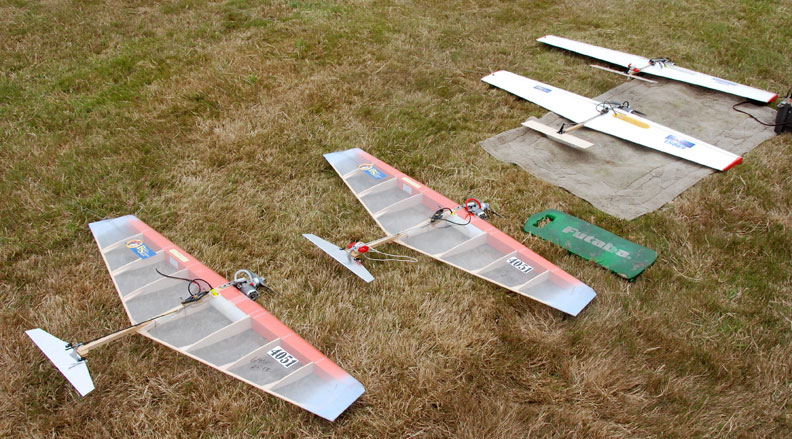 Beaver State Combat team fast planes ready for action (John Thompson's Yuvenko CD Fasts at left, Gene Pape's Underdogs at right). Flying Lines photo.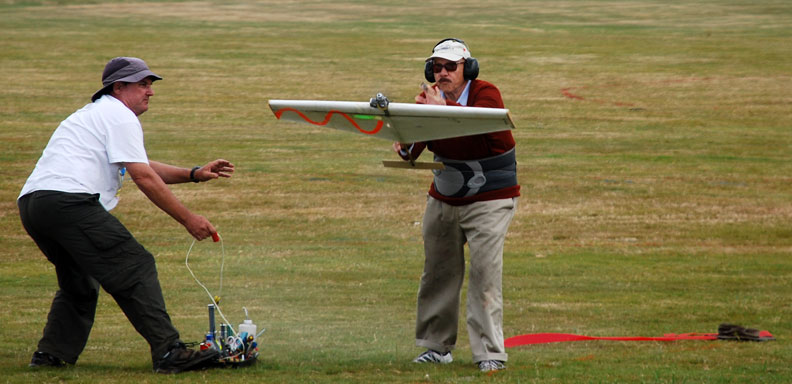 Bob Carver launches Mel Lyne's plane as starter Lane Puckett steps aside. Gene Pape photo.
Two approaches to safety shutoffs: Traditional H&R at left, Don Jensen's spring-type at right. Shutoffs worked flawlessly at the Grabber, keeping a couple of cutaways from leaving the site. Flying Lines photos.
One flier's 1/2-A Combat fleet. Flying Lines photo.
---
This page was upated Aug. 9, 2016