The Broadway Bod Busters
COMBAT MONSTER ESCAPES!
Yes folks, it's true.
<![if !vml]>
<![endif]>
Sorry folks, he got out and went to Muncie!
Gather round cats and I'll tell you a story about how to become an all American Boy,
Get yerself a Nelson, put it in tune ... you'll be a rockin and a rollin soon.
Hot licks ... showing off ... number one, yeah!!!!!
Don Mckay AKA The Combat Monster wins 2nd in 1/2A and is 2009 National Champion in Fast Combat using ALL AMERICAN EQUIPMENT.
<![if !vml]>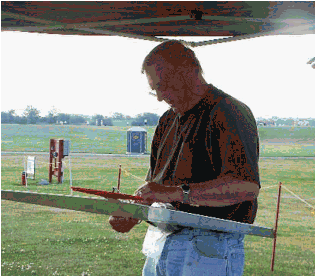 <![endif]>
Adding finishing touches to the R&B Rip-off.
<![if !vml]>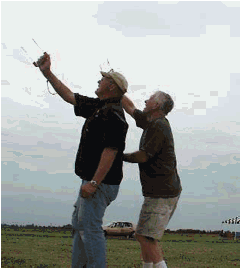 <![endif]>
Winning yet another match!
<![if !vml]>
<![endif]>
<![if !vml]>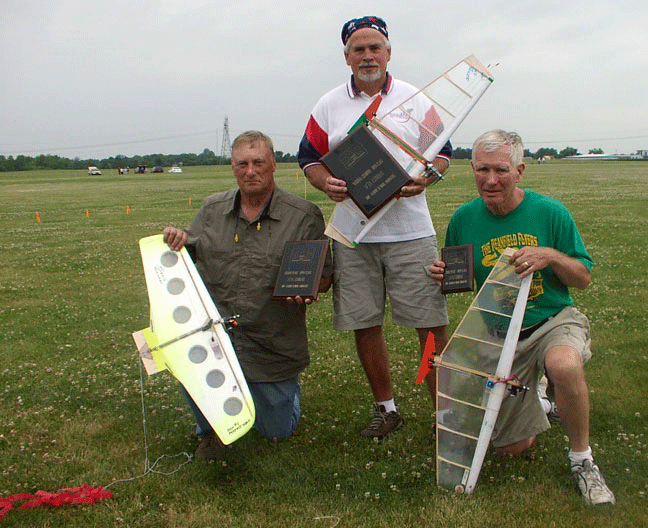 <![endif]>
Most all F2D fliers know it's really hard to beat Cranfill. We forgot to tell him this. The combat Monster just barely lost the 1st place match in 1/2A.
Winners of 1/2A Combat (L-R): Don McKay, second place; Don Cranfill, first place; and Paul Smith, third place.
<![if !vml]>
<![endif]>
<![if !vml]>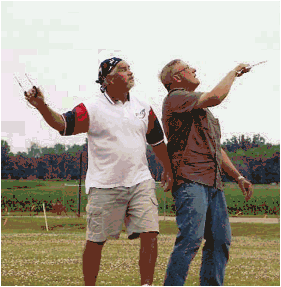 <![endif]>
Perfect example of eyes off flying.
<![if !vml]>
<![endif]>
Perfect example of glasses off flying.
CL Combat
Thursday morning, the weather was a little cool with sprinkles in the area, but not enough to slow anything down.
The day started off a little funny, Terry Balch the (AMA July Host) came driving up and asked if anyone was missing an airplane. He had found one lying out in the middle of the field last night. I said show it to me and I can probably tell whose plane it was. It turned out to be Don Cranfill's airplane. I told him to give it to me and I'd pass it on to Don. I was going to put it in my car and make him suffer a little when he showed up, but when he showed up he had been looking for the plane all morning long and Sheila wasn't sure it wasn't her fault, so I let him off easy.
We are going to fly Double Elimination four-minute matches and 80 points a cut.
The best match of the day was the first one of the day, between Don Cranfill and Don Mc Kay. Don got four cuts. He said, "I wish I had gotten that many cuts when I was flying F2D."
I wish to thank the crew for the day: Phil Cartier, Event Director; Sheila Cranfill, Chief Judge; and Brad La Pointe.
Friday will be the big dogs: fast combat. I talked to Howard up at the Stunt circles and he said he was going to be flying with us tomorrow.
Report and text by Wayne McDaniel
328 Fast Combat:
1 DON F MCKAY REDMOND WA
2 DON S SOPKA BROADVIEW HTS OH
3 HOWARD M RUSH BELLEVUE WA
4 WAYNE C MCDANIEL MUNCIE IN
5 P CARTIER HUMMELSTOWN PA
6 EMIL OPFFER BOSCOBEL WI
<![if !vml]>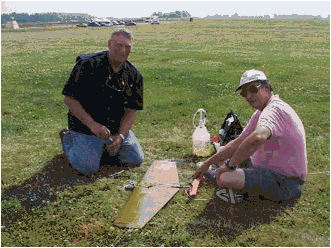 <![endif]>
The Combat Monster and some guy in pink.
<![if !vml]>
<![endif]>
The All American winning combination in Fast!
NELSON ENGINES
R&B Rip-Off
H&R shut-off
Jeff Dawson Fast ship.
This page was upated July 15, 2009
---