BBB, WINNINGEST COMBAT TEAM IN USA!
<![if !vml]>
<![endif]>
Yes folks, it's true.
The BBB is leading the All other combat teams in overall points and top seeding for combat flying in the U.S.A. Back on Temporary status, press secretary Hevos Fritos has infiltrated the MACA headquarters and "borrowed"( stolen is such an ugly word) the secret top 20 listing for the United States. (See below)
Overall top 20 2009

Rank

Name

Score

1

Stubblefield, Richard

69

2

Rein, Jeffrey BBB

66

3

Mears, Bob

65

4

Wilson, Buzz BBB

61

5

Burdick, Ken BBB

56

6

Cleveland, George

46

6

Siegler, Tom

46

8

Mckay, Don BBB

315

9

Thompson, John BEAVERS

33

10

Rudner, CHuck

28

11

DeVeuve, Allen

27

12

Hebestriet, Kevin

26

13

McKinney, James

18

14

Lopez, Rich von

13

14

Rennick, Alex

13

14

Hanauer, Jeff

13

14

Jensen, Donald

13

14

Stewart, Steven

13

14

Smith, Robert

13

14

Pape, Gene BEAVERS

13
<![if !vml]>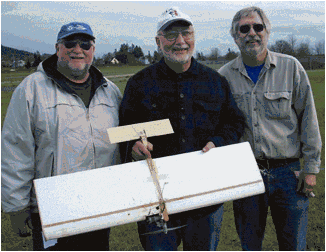 <![endif]>
The listing shows both the BBB and Beavers making the upper echelon of combat flying in this country. But What has happened to the Beavers? Why are they 9th and 14th!!!! Are there no combat flyers in Oregon to come slap their tails down and say "ikikikikikiki" (or whatever it is that Beavers say) Will no other Beavers emerge from their Dams and help the three leader Beavers in their quest to overtake the BBB? The power of the C-cup is where the answer to this question lies. April 25th is the next leg of the journey and April 17th is the 80 mph contest in Po-Land, but since it's Kills only we will sic the Combat Monster on em.
Kenny-b and The Bod Busters
This page was upated March 16, 2009
---