Faro Field Flyers
The Faro Field Flyers are a radio control and control-line model airplane club based in Chehalis, Wash. Their flying site, Faro Field, is at 1354 Pleasant Valley Road, Chehalis. It offers both RC and control-line flying areas.
For up-to-date information, see the Faro Field Flyers website or email for information.
As of October 2020, Faro CL fliers included Jeff and Tina Christenson, Rih Schaper, Marc Winz, Mick Hart, Robert Benjamin, Doug Oertli and Sonny Lewis, with more club members from the RC side promising to join the fun.
---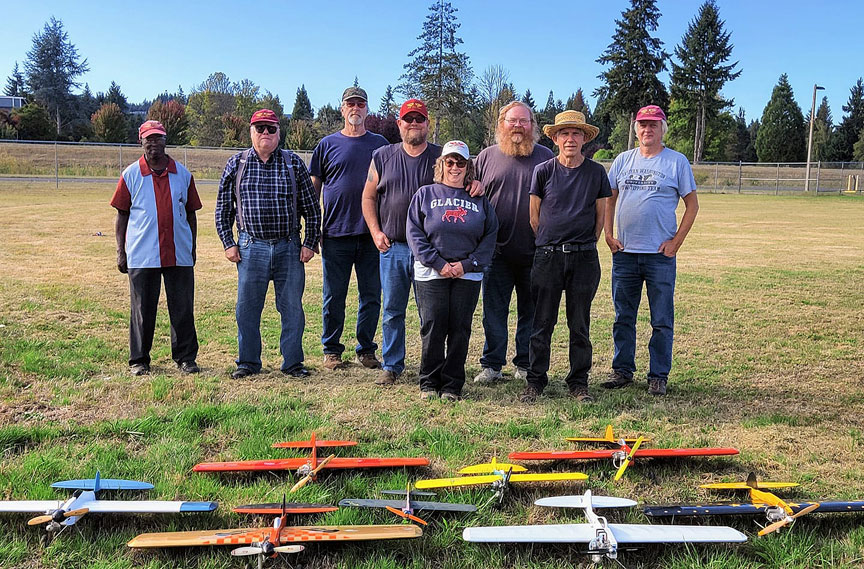 Faro Field Flyers with their planes at the 2021 Ringmaster Fly-a-Thon.
New! Faro Flyers participate in 2021 Ringmaster fly-a-thon See article
Some of the Faro Field Flyers with their lineup of Ringmasters at the 2020 global Ringmaster fly-a-thon. Sonny Lewis photo.
Faro Flyers participate in 2020 Ringmaster fly-a-thon See article
---
This page was upated Oct. 8, 2021