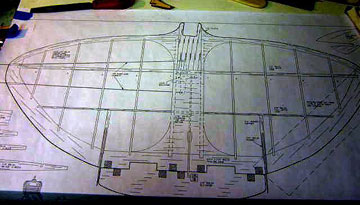 Yes folks, it's true
Back when cars had fins, and Gene Umbright had more energy than he knew what to do with, he designed and built a combat wing that was named the Missourian.
It has been described by modeling expert Adrian Duncan as "grotesquely beautiful." Barry Baxter of Baxter Plans Service uses a skeleton of it on his business card, and anyone who ever tried to build an elliptical wing has its admiration.
In 2011, as I got revved up for the start of Combat Graffiti, I imagined myself building one. What I didn't know, and later found out was, it's made up out of slotted spars and ribs that Tee together. If you've never scratch built an elliptical wing -- it means that EVERYTHING must be spot on or the wingtips of the ellipses won't fit. Perhaps the spars will misalign or it suddenly pops apart like the thing is spring loaded -- soon it may all become firewood!!!!!!
I actually built one of these lil' darlings from the plans I bought from Barry Baxter Plan service. I hated it.It kicked my butt and the templates I made were right on. To make things worse, I covered it with silk that didn't shrink and I wound up covering it with iron-on.
Time heals all wounds.
Even though I considered my scratch built Missourian a failure, and even though it flies well, I still wanted a good one. One day I found myself eyeing the stack of Missourian templates suspiciously and I decided to call Barry Baxter and get his thoughts.
"You mean to actually build one?" he said. "Only if I have to" I replied. "You know of any laser shops that might take this on?"
Barry suggested that I talk to Walter Umland of Builtrightflyright models.
Years before, Barry had sent him the plans and he thought Walter had a start on the programming. I called right away.
Walt Umland has now, and always did have a love for the oldies combat wings. On his site, are several that he kits and sells, the Missourian however, was not among them. We talked for quite some time and I explained to him, my idea called Combat Graffiti and how it's been working out so well. He said to let him review his files and he would get back to me in a week.
Be careful what you wish for
I really didn't realize what I had started. To me, I pretty much wanted a rib set and spar set.Ya know, something that would line up everything else. When Walter called me back, he was not only on board with the project, he was excited. He rattled off all of the parts he would make which turned out to be everything. Everything to Walt Umland isn't the same everything to you and I, it's more. Walter Unland, you see, is a perfectionist. When he envisioned "everything," it included building jigs, integral tabs to level the wing spars to the building surface, all curved gussets and planking with large curves cut into them. Leading edge pieces deeply notched and the same for the elliptical trailing edges. Everything was there including the funny-looking twin rudders. I sat in stunned silence as I went through the kit. Did I mention it was cut from contest grade balsa?
Los Prototype
Walter and I agreed on some of the parameters for me to give him feedback. His health is not good and as such, I would be the only one building the prototype. I was to let him know what didn't fit and he would make program changes and send me the revision. Given my years of working with engineering proto's I figured we were in for a few revisions. Happily I was wrong. The parts all but assembled themselves! The detail was some of the finest work I have seen in any kit. All work began in Autocad and then likely to dxf or IGES files and sent to his laser, so there is lots of room for errors, but there were none. All parts slid together with a "just right" feel to the fit. The ribs nestled into the spar slots and were perfectly aligned and centered. Good engineering is a pleasure to work with.
Highlights
<![if !supportLists]> 1. <![endif]> Everything fit perfectly
<![if !supportLists]> 2. <![endif]> No partially cut laser lines to cut out by hand.
<![if !supportLists]> 3. <![endif]> Laser tabs were easy to remove
<![if !supportLists]> 4. <![endif]> Detailed gussets and planking, fit perfectly
<![if !supportLists]> 5. <![endif]> Full size plans
<![if !supportLists]> 6. <![endif]>Building jigs to align everything
Flying
Thanks to Barry Hobkirk, I did not throw the scratch built Missourian away. He persuaded me to at least give it a flight or two. One sunny day when the Rein Man and I had been testing the latest revisions on the R&B rip off Fast ship, I dragged the tiny ellipse out of the car. We both looked at it, then at one another, each one thinking the same thing -- it's too little. The engine I selected for the ugly duckling was an Enya .29 Typhoon with the cool looking airfoil shaped exhaust stack. I had balanced the model according to the plans, put the leadouts as shown and had 1/2-oz. wingtip weight. It flew stable, pulled just right and completed most of the stunt pattern. WHO KNEW?
Availability
Walter said that his health issues are a constraint on his abilities lately, but to contact him if you want to talk about getting one of these excellent kits made up.
Photos of the finished latest version from the Umland kit will be added later. For now, here are some construction photos.
-- Fan for life/ Kenny-b
Left photo shows alignment over the plans; right shows the trailing edge pieces.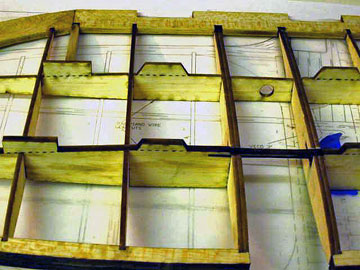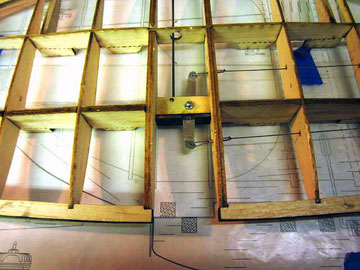 Close-ups of the parts over the plans and the bellcrank installed.
Parts now assembled; on the right, sheeting has been added.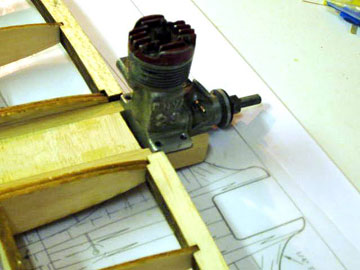 Engine installation and the final, covered model ready for paint.