Zoot's Mixture
June 2012
View of the now Zoot Zoomer shop (with living quarters attached) from the flying field. Photo taken during 2011 fun-fly; house is nearing completion in summer 2012. All photos by Bob Cooke.
Going up the Country
a modeler's transition from city boy to country boy
INTRODUCTION: Most of my modeling friends know that just a few years ago I moved from Salem, Ore., out into the neighboring countryside. Just a few of you know what the current status is, here's the full story in a nutshell ...
Sometime earlier in life I had thought how nice it would be to live out in the country. As a child I always enjoyed my stays at the grandparents' ranch, so it's probably pretty easy to connect the dots there. Later on into my "modeling life" the country living concept also held out a tantalizing possibility -- a personal flying field. After I was married, the idea of living out from town was something my wife gradually got on board with as well. However, we knew that it was not a realistic scheme until our offspring had sprung, and some other ducks were put into a row.
Every so often the country move came up with various embellishments coming and going, including the intriguing idea of a log home. We were coasting along in life when in the year 2005 it seemed that the planets were starting to line up for us. Our two boys had been gone for a few years now, and the "ducks" were getting themselves into order.
Photo: ZZ describes the finer features of the Zoot Field flying field to Bruce Hunt (left) and John Thompson; barn/temporary shop in background.
What actually got the ball rolling was a chance comment from one of our neighbors that he would like to have a house similar to ours. We had a fairly large two-level home, and he had an expanding family. The dialogue continued and our neighbor became interested in specifically buying our house. During this time frame we were also becoming a little dissatisfied with some of the changing dynamics of our neighborhood in which we had resided for 25 years.
Our next step was to start looking for a country place to live. With the likelihood of finding the right piece of property with the right kind of house on it very minimal, we concentrated on looking for bare land. The basic parameters set for our piece of dirt included: not too large, not too small, not too far from civilization, and of course with a reasonable price. During our property search process the tentative sale to our neighbor fell through. But the property search continued and at the same time we started readying our city home to be put onto the market.
One day I came across a real estate listing that looked intriguing. What caught my eye was the teaser "Live in the trailer while you build your dream home." While that concept was not one our basic parameters, it had been thought of as a perfect world situation, that is, a temporary house on the property we would build on.
We checked out the property and liked it. The parcel of land was sized at about eight acres, there were plenty of large trees and also plenty of open areas. An old double-wide manufactured home was occupied by the property owner. The site was near, but off of the main highway so access and commuting to work would not be a stretch.
We contacted the real estate agent, and after a couple of revisits and meetings we entered into negotiations to purchase the property. The parcel was a diamond in the rough, but we saw the potential and it seemed to have our name on it. This was in early May of 2005. In the middle of June, we were the proud owners of the spread.
Photo: John Thompson flies his Bi-Slob on Zoot Field.
Next came some heavy lifting. We finished up getting our city house to go on the market a little later, and then we also had the country project. The old manufactured home would be a temporary residence on the property, but we had to make it livable. It was in need of some serious cleaning and also had a few maintenance issues. After several weeks of cleaning, painting, etc., it was habitable. On the property there is also a small barn, half being rough storage area and the other half a semi-decent shop area with a nice concrete slab floor. This also had to be cleaned out, and it turned out to be an invaluable asset for storage, as the manufactured house was much smaller than what we were currently living in.
Meanwhile, back at the city (no, not at the ranch) it was now late summer and our house had still not sold. A few lookers, but alas, no offers. This was before the real estate crash that would come a little later. But finally we had an interested party, and after the usual offer/counter-offer process our house was sold in early October 2005 (probably missed the Fall Follies contest that year). Prior to our house sale, we had been slowly transferring some of our possesions from city to country. This made our work easier come time for the final move-out.
All right! So now we are living out in country, what next? Actually, first thing I should define is "country." We are about 20 miles east of Salem, just off of the main highway heading that direction. Our place is at the edge of a rural neighborhood, so we do have neighbors but they are now hundreds of feet away instead of what felt like inches before. Are there some inconveniences being out of the city? Sure, but they seem pretty minor with the other positives we have gained. Oddly enough, I only have a two-minute drive to get to a decent hardware store. It took much longer than that in the city!
OK, now back to the "what next" part. It would be at least a couple of years before we could build our dream house. There were financial considerations to take care of and doing the actual house planning. Meanwhile there is property development to take care of. I purchased a tractor with an assortment of implements to groom the land. Over the next couple of years the overgrown areas were cleaned up, and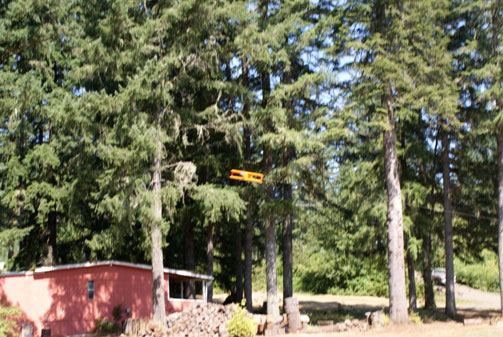 some trees came down to make room for a flying circle. Some miscellaneous repairs and construction around the barn area also kept me busy. My modeling activities have been slightly curtailed what with not having a decent (and heated) shop, and other priorities jumping up from time to time. So, not as many contests going on in my schedule as before, plus very little in the way of new plane construction.
Photo: The Bi-Slob passes the old house, scheduled for demolition when Zoot Shop building with living quarters attached is completed.
A couple of years roll by and we start the process of designing the house with a builder. After a few months we have a set of plans that we like and so we start the ball rolling with financing and permitting. It turns out that our house will cost a bit more than originally planned for so now we have the heartbreak of a delay. No problemo sez we, will just wait another year while putting away more money for the project. Next year comes and we get shot down again, but this time because all of the rules and conditions had changed. This was after the Big Crash of the economy, and nobody was lending money for new construction, least of all for log homes. So it's back to the drawing board, kind of.
Over the next couple of years while the banks and the economy are in flux, we explore some options. We first look at a different house style with another builder, and that doesn't work out either. But eventually all the planets line up with a solution.
I have a brother who was willing to take on our house project, and would do so at less cost than some other contractor off of the street. We reworked the house plans to a conventional stick-built construction method, but with plenty of country-style design features incorporated. With my (free) labor also figured into the project it looked like things would finally pencil out. The banking industry was still very tight on giving out construction loans, but this time we prevailed and it was game on! Work started in May of 2011 with a projected completion date of "who knows?" (Latest estimate puts completion at midsummer 2012.)
It's been a quite a journey with several hundred of labor hours put in, but it will be all worth it when completed. I will also (finally) have my dream shop with plenty of creature comforts to be enjoyed year-round. And I am sure it will be well used year round, as several planes have been added to the "must-build" list over the last few years.
As of the date of this writing (June 2012), most of the exterior work is complete except for the painting and completing the decks and entryway. We are now well into the interior work, currently doing painting, staining, and trim work. Work on the flooring will be coming soon, as will masonry work around the fireplace. And of course there are always lots of other miscellaneous details such as finish work on plumbing and electrical.
The weather has recently turned the corner for the better so will be getting into some more dirt moving to complete the backfill. And after that will also come some landscaping, and while not technically part of the house project, hopefully I can squeeze in my flying circle upgrade this season.
We are really looking forward to our move-in later this summer. Don't believe that I mentioned this earlier, but the move from the old house to the new one will be about a two-hundred foot trip. It's going to be great to unpack things that have been boxed up since our move out here. Oh, and what about the old house? This will be a fun part of the project -- we get to tear it down! I suspect that phase will be much faster! Will check in again with a progress report. Well, I have rambled on long enough for now, I trust this was plenty of story for a "nutshell."
---
This page was upated June 6, 2012