Chehalis Cup 2014 Combat Contest No. 2
July 19, 2014, Chehalis, Wash.
C-CUP #2 was the last contest before the Bladder Grabber and was planned as a tune-up. Four flyers took advantage of this contest. Absent from the contest were Jeff Rein who is still dealing with back issues, John Knoppi who claimed to be working on his car, John Thompson who was off with the wife, Jim Green who was forced to go to Europe again, and Mark Hansen. Mel Lyne came down from Canada to take advantage of the tune up. Friday Mel and Bob Carver were working with big block fast equipment.
It was cloudy and breezy when Half A began. Keeping with tradition, the first match was between Gene and Robert, and keeping with tradition, Robert won. Mel had a tough day with equipment. In his first match he blew a crankshaft and later on he had his lines break and the plane and hit the asphalt. The engine had previously hit asphalt and repaired with JB Weld. It is now beyond repair.
After lunch, the sun came out and it got very warm. With four flyers, everyone would fly each flyer once. The best match of the day was between Robert and Mel. Early in the match Robert hit the ground. After a quick pit stop, he was back in the air. He and Mel went at it hard and fast with Robert winning the match.
A special thanks to Mike Denlis, and the Johnson clan, Daniel and Nathan.
After two C-Cups, not to be confused with K-Kups, there is a tie for the cup between Robert and myself.
HIGH-PERFORMANCE 1/2-A COMBAT (4 entries)
1. Buzz Wilson, Belfair, Wash. (4)
2. Robert Smith, Roy, Wash. (3)
3. Mel Lyne, Garibaldi Highlands, B.C. (2)
4. Gene Pape, Eugene, Ore (1).
FD2 FAST KILLS (4 entries)
1. Gene Pape (4)
2. Robert Smith (3)
3. Mel Lyne (2)
4. Buzz Wilson (1)
Below are the standings after the first two contests.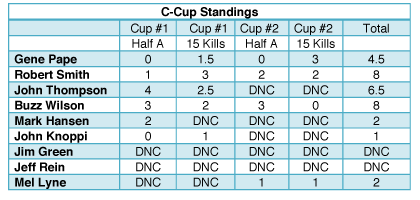 Chehalis Cup Contest No. 2 is scheduled for Aug. 23 See Where the Action Is for details.
---
This page was upated July 20, 2014