By Gary Harris
To those who worried that the weather might be bad on the day of the contest in Portland. We got lucky for MOST of the day.
The morning started off a little chilly with clear blue-bird skies and no wind. Slowly the temperature warmed and the afternoon was pleasant. Later in the afternoon the wind kicked up and dark clouds moved in. We did stop the Northwest Sport Race before running a final but preliminary heats went well enough to determine winners.
Three entrants flew NW Flying Clown:
First 7-1/2 minute heat: Leighton Mengels flew his clown with Doug Powers pitting -- 99 laps. John Thompson's clown was flown by Jim Cameron -- 113 laps.
Second 7-1/2 minute heat: Doug Powers pitted his plane with Leighton Mengels at the handle -- 87 laps. John Thompson's second prelim with Jim Cameron holding the handle got 115 laps.
The 15-minute final had John Thompson's entry against Leighton's. This turned out to be an example of how and why we can have so much fun at this hobby/sport.
The race started off as normal with both teams flying and pitting at a routine pace. John's plane had a slight speed advantage. When it was thought that John had gained more laps toward the end of the race, wouldn't you know that Murphy's law would sneak in. Jim landed John's plane for it's last pit stop of the race and the outboard wheel came off and rolled into the grass out of sight! John looked and looked to no avail. The little wheel was well camouflaged in the grass and fallen leaves. Too bad! So John didn't complete the pit stop and relaunch.
Leighton continued flying and, with a couple minutes left, looked like he may have been able to accrue enough laps to gain a come-from-behind victory ...
Then, the thirsty engine quit, needing one last pit stop and the plane ended up stranded far away from Doug, who was holding that longed for ounce of glow fuel in the plastic refill bottle. Uh oh, only a few seconds of flying time left. What a bummer! But wait. Let's see what the lap counts are for each plane. Surprise, both had 202 laps exactly. What a coincidence.
The fliers agreed to determine the winner by who had the best prelim heat race; And that was John with 115 laps in the second 7-1/2 minute heat.
On to NW Sport Race:
The five entrants decided to fly two 70-lap prelim heat races to determine the quickest three who would then advance to the 140 lap main event.
The first 70-lap prelim was between Doug Powers (with Doug pitting and Leighton piloting) [6:24:25] and Gene Pape flying his plane (with Russ Hester pitting) [4:52:56].

Next 70-lap pre-lim was John Thompson pitting his plane (Jim Cameron at the handle) [7:06:60], Russ Hester pitting his plane (Gene Pape at the handle) [4:23:72] and Leighton Mengels flying his entry (Doug Powers pitting) [6:16:79].
Again John Thompson found himself in line for the Murphy's law award while preparing his NW Sport Race plane in the pitting area. He accidentally dropped a small necessary part of the needle valve assembly/venturi in the grass. Oh my goodness, this is like dropping a short 4-40 bolt on the shag carpet. Where is it? John pulled the lucky rabbit out of the hat and located the wayward screw with a hand-held magnet. Oh boy, now we can race.
The other patient competitors were glad to get things rolling because the sky was turning ominously dark and the wind was building up to a hurricane force much too quickly.
So we were able to get underway and have a 70-lap heat between John, Russ and Leighton. By the end of the heat the pilots, pit crews and officials were ready to call it a day since the weather was now really uncomfortable.
Congrats to John Thompson for winning the $15 cash pot for NW Flying Clown and Russ Hester for winning the $25 cash pot in NW Sport Race.
Thank you to competitors and helpers. We would like to recognize Richard Entwhistle, Jim Cameron, Bill Lee, Don Curry, Dave Royer and Darrin Bishop.
James Price showed up with his son to visit and offer his services regarding model engine repairs.
Results
(Northwest standings points in parentheses)
NORTHWEST FLYING CLOWN RACE (3 entries)
1. John Thompson, Eugene, Ore. (Jim Cameron piloting) -- 202 laps (115-lap heat) (3)
2. Leighton Mangels, North Plains, Ore. (Doug Powers pitting) -- 202 laps (99-lap heat) (2)
3. Doug Powers, Portland, Ore. (Leighton Mangels piloting) -- 87-lap heat (1)
NORTHWEST SPORT RACE (5 entries) (Preliminary heats only due to weather)
1. Russ Hester, Florence, Ore. (Gene Pape piloting) -- 4:23.72 (5)
2. Gene Pape, Eugene, Ore. (Russ Hester pitting) -- 4:52.56 (4)
3. Leighton Mangels (Doug Powers pitting) -- 6:16.79 (3)
4. Doug Powers (Leighton Mangels piloting) -- 6:24.25 (2)
5. John Thompson (Jim Cameron piloting) -- 7:06.6
Northwest Sport Race winner Russ Hester, ready for action, with timer Don Curry in the background. Bill Lee photo.
John Thompson launches his Rossi-powered Northwest Flying Clown Race entry. Bill Lee photo.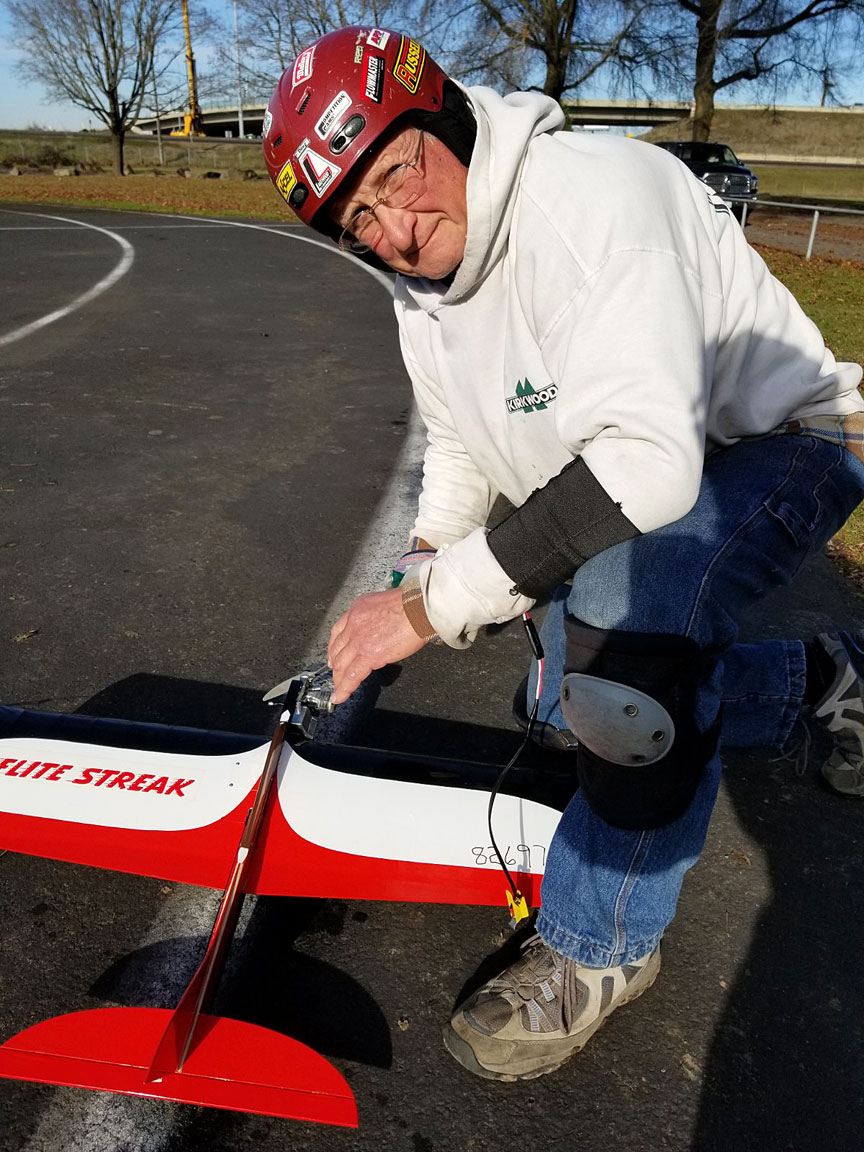 Doug Powers ready in the pits with his Northwest Sport Race entry. Bill Lee photo.
Contest Director Gary Harris prepares to start a Clown Race heat. Bill Lee photo.
Pilot Gene Pape waits for Northwest Sport Race action as Russ Hester prepares in the pit. Bill Lee photo.
Jim Cameron (left) holds John Thompson's Northwest Sport Race plane while emergency repairs are made before a heat. Bill Lee photo.
Racing can't happen without timers. Richard Entwhistle punches a stopwatch and lap counter. Bill Lee photo.
This page was upated Dec. 2, 2019