Northwest Fireballs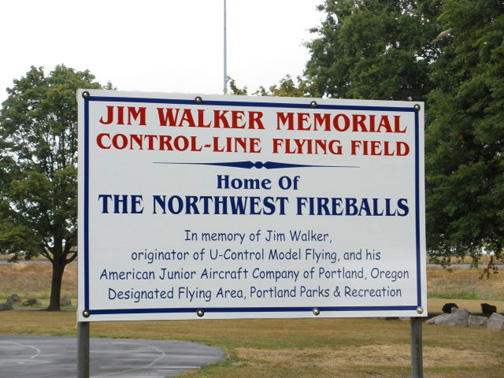 The Northwest Fireballs control-line model airplane club is based in Portland, Ore. The members fly several times a week at the Jim Walker Memorial Control-Line Flying Field at East Delta Park, where the club also hosts the annual Jim Walker Memorial Spring Tune-Up event every April. E-mail for information about flying activities. For more information about Jim Walker and his American Junior Aircraft Company, visit the American Junior website.
---
Club officers
Don Curry, president
Jim Harper, vice president
Gerald "Jerry" Olson, secretary
Barbara White, treasurer
Geoff Christianson, member at large
Richard Entwhistle safety officer
Interested in joining the Fireballs? Annual dues are $20; Academy of Model Aeronautics membership is required. E-mail for information
---
Obituary: Geoffrey Christianson, 1931-2013 See article >>
Fireballs Summer Picnic 2012 See article
Two-part Clown Contest results See article
Fliers greet new year at Delta Park with Oregon Flying Fun No. 1 See article
Download December 2011 Fireball Flyer newsletter
Download November 2011 Fireball Flyer newsletter
Download October 2011 Fireball Flyer newsletter
includes intra-club Clown Day report
New! Portland fun flies ring in the year 2011 See article
Results of Fireballs Clowning Around contest See article
2010 Jim Walker Memorial Tune-up report See article
Fireballs and friends inaugurate 2010 flying in fun-fly at Delta Park See article
Fireballs to host multi-event Flying Clown Day in 2010 See article
A typical flying day at East Delta Park See article
Wayne Spears obituary, memorial service information See article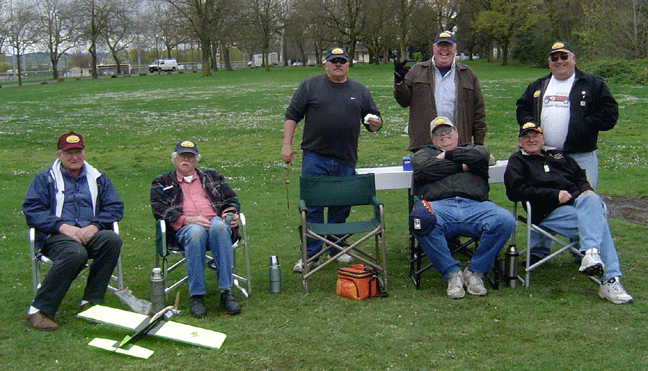 Portland area fliers meet Mondays, Wednesdays and Fridays (with occasional weekend flying) at East Delta Park. There's usually a good group on hand, sometimes a dozen or more. On a recent Friday, these Fireballs members modeled their new hats. Geoff Christianson photo.
The Northwest Fireballs flew their second annual demonstration on July 4, 2009, at Happy Valley Park near Portland. Pictured are (back row, left to right) Richard Entwhistle, Jim Harper, Jerry Olson and Gary Harris; (front row) Irene Heen, Jim Cameron, Doug Powers. Not shown are Mark Hansen and Barbara White. See article. Barbara White photo.
Here are the Fireballs attending the March 13, 2011 meeting at Doug Powers' house. Left to right: Scott Riese, Leo Mehl, and (on the sofa, behind Leo) Jerry Olson, Doug Powers and Mark Hansen, Bill Lee, Ron Anderson, Jim Cameron, Alice Cotton-Royer, Dave Royer, Jim Harper, Don Curry and Richard Entwhistle. Fireballs photo.

The pleasant setting at East Delta Park in Portland, Oregon, is the site of the annual Jim Walker Memorial Spring Tune-up contest (a stunt flier performs on the asphalt circle, above) and other organized flying activities through the year, as well as regular informal flying sessions. In photo below, a Fireball member does a final pass on the grass flying area before a contest. Leo Mehl photos.

---
This page was upated April 30, 2013