A snowy pit area hosted lots of planes in Richmond, B.C., on Jan. 1, as fliers in the Vancouver area and in Portland, Ore., got out flying in two traditional New Year's Day fun-flies. Chris Cox photo.
Control-liners go flying to greet the New Year
Rice Mill Road field, Richond, B.C., and Jim Walker Memorial Control-Line Flying Field, Portland, Ore., Jan. 1, 2017
Traditional Northwest fun-fly events celebrated the beginning of 2017 in Portland, Ore., and in Richmond, B.C., on Jan. 1.
In Portland it was Oregon Flying Fun No. 1, hosted by the Northwest Fireballs, which was the first of four traditional Oregon winter fun sessions. A gloomy weather forecast kept some out-of-towners from attending, but a dozen Portland area fliers flew and had some good food.
In Richmond, about 20 fliers from the Vancouver Gas Model Club and Pacific Aeromodellers Club gathered in the snow for the annual Polar Bear Fun Fly.
Here are reports from the clubs on the activities:
Oregon Flying Fun No. 1
Flying conditions were perfect for Oregon Flying Fun No. 1, hosted by the Northwest Fireballs on New Year's Day at Delta Park in Portland. It was quite cold, yes, but there were clear skies, moderate wind, and no rain or snow. Several flyers had to brave 2 to 4 inches of snow in their own driveways to get to the field, but the trip was well worth it.
All in all, 12 club members were at the park. Flying over the paved circle and at least one of the grass circles was fairly constant all day. Don Curry had the honor of putting up the first flight of the day, pretty much right at 10 a.m., while the last flight of the day was by Doug Powers.
Food this year was outstanding. Starting with lots of hot coffee and doughnuts, the day continued with three pots of chili, turkey soup, potato and macaroni salads and grilled hot dogs.
Prizes were drawn at the end of the day, one for each pilot, partially from new items and partially from Geoff Christianson's collection, donated by his last wife Andi.
Attending this season-opening fun fly were: Jim Cameron, Pat Chewning, Don Curry, Richard Entwhistle, Phil Goldberg, Jim Harper, Gary Harris, Robert Ladd, Bill Lee, Leighton Mangels, Doug Powers, and Dave Royer.
Oregon Flying Fun No. 1 photo gallery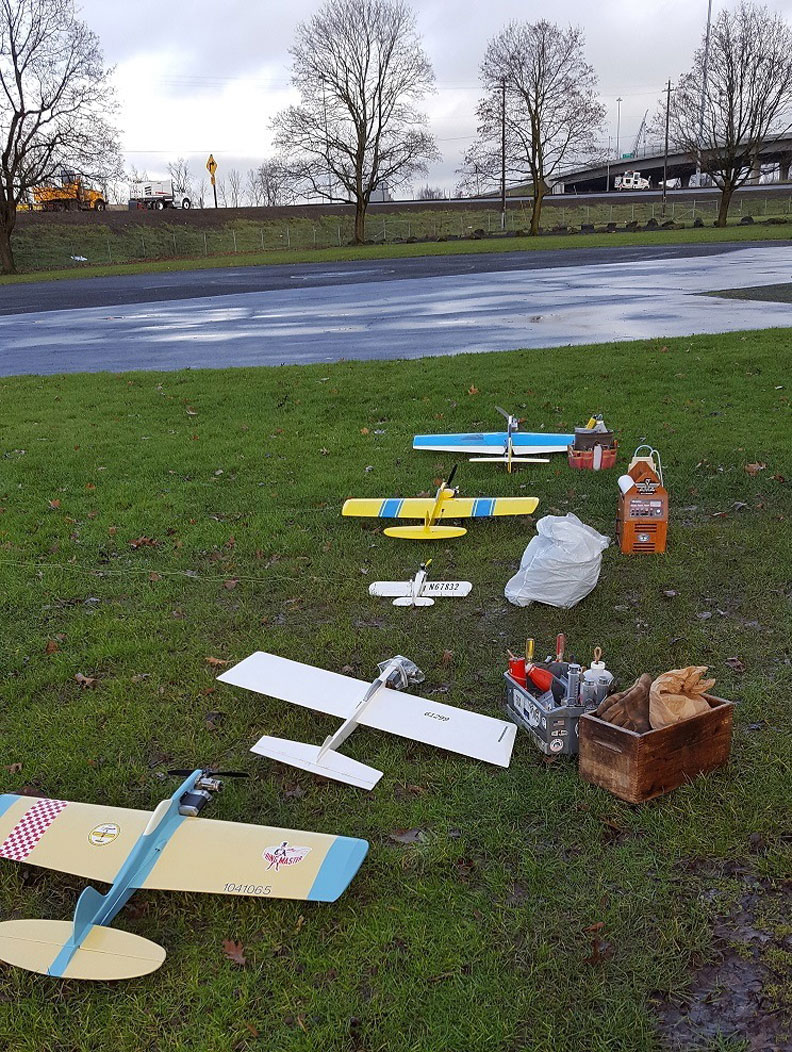 Planes lined up for action alongside the asphalt circle at Jim Walker Memorial Field. Bill Lee photo.
Dave Royer starts an engine while Don Curry holds. Bill Lee photo.
The Portland fun fly always includes a feast. At the food table (from left) are Gary Harris, Leighton Mangels and Richard Entwhistle. Bill Lee photo.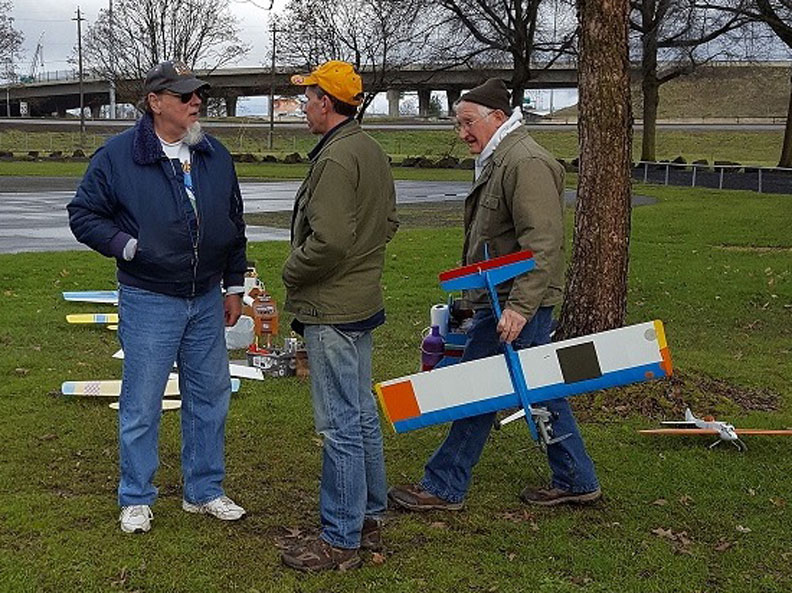 Dave Royer (left) and Jim Cameron visit while Doug Powers heads to the pits with his plane. Bill Lee photo.
Everyone was dressed for the cold, including Fireballs stalwart Robert Ladd. Bill Lee photo.
Happy New Year!
Another successful New Year's Polar Bear fly for the VGMC. It snowed most of Saturday, but Sunday, Jan. 1., was actually very nice, other than temperatures hovering around 0C (32F) most of the day.
As it turned out, the Rice Mill Road flying site did not get nearly as much snow as a little further inland, but had inch of snow on the circle which was pretty much frozen and totally suitable for taking of and landing on. I did not stay too long, so I am sure several others showed up as the day moved along, but I counted 20 people there before Joan and I headed out to other appointments involving food.
Polar Bear Fun Fly photo gallery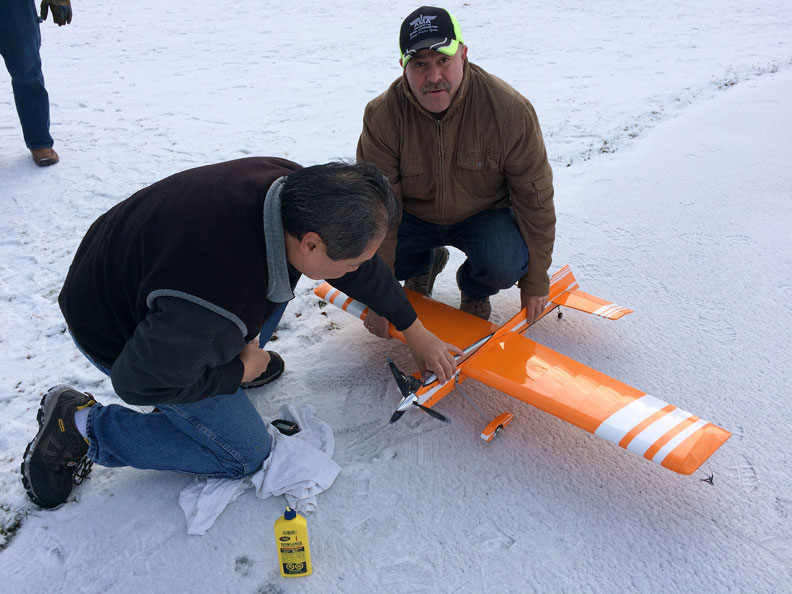 Joe Yau gets ready for a start. Chris Cox photo.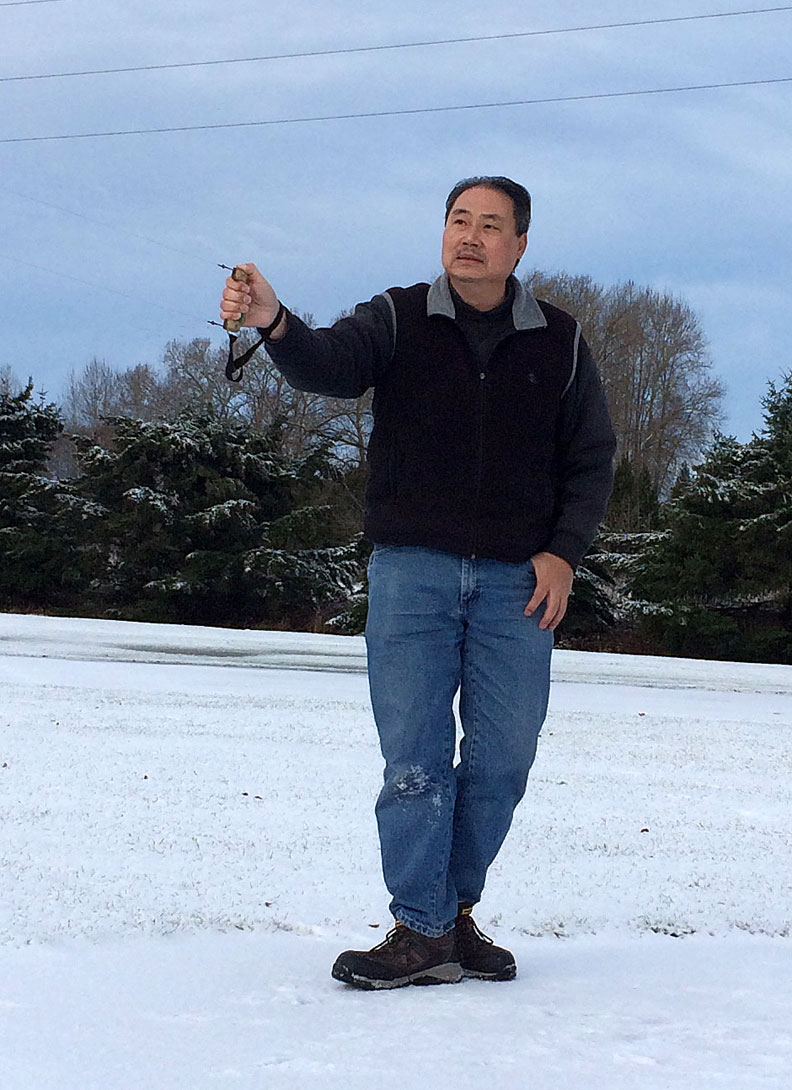 Joe Yau at the handle -- a little snow? No problem. Chris Cox photo.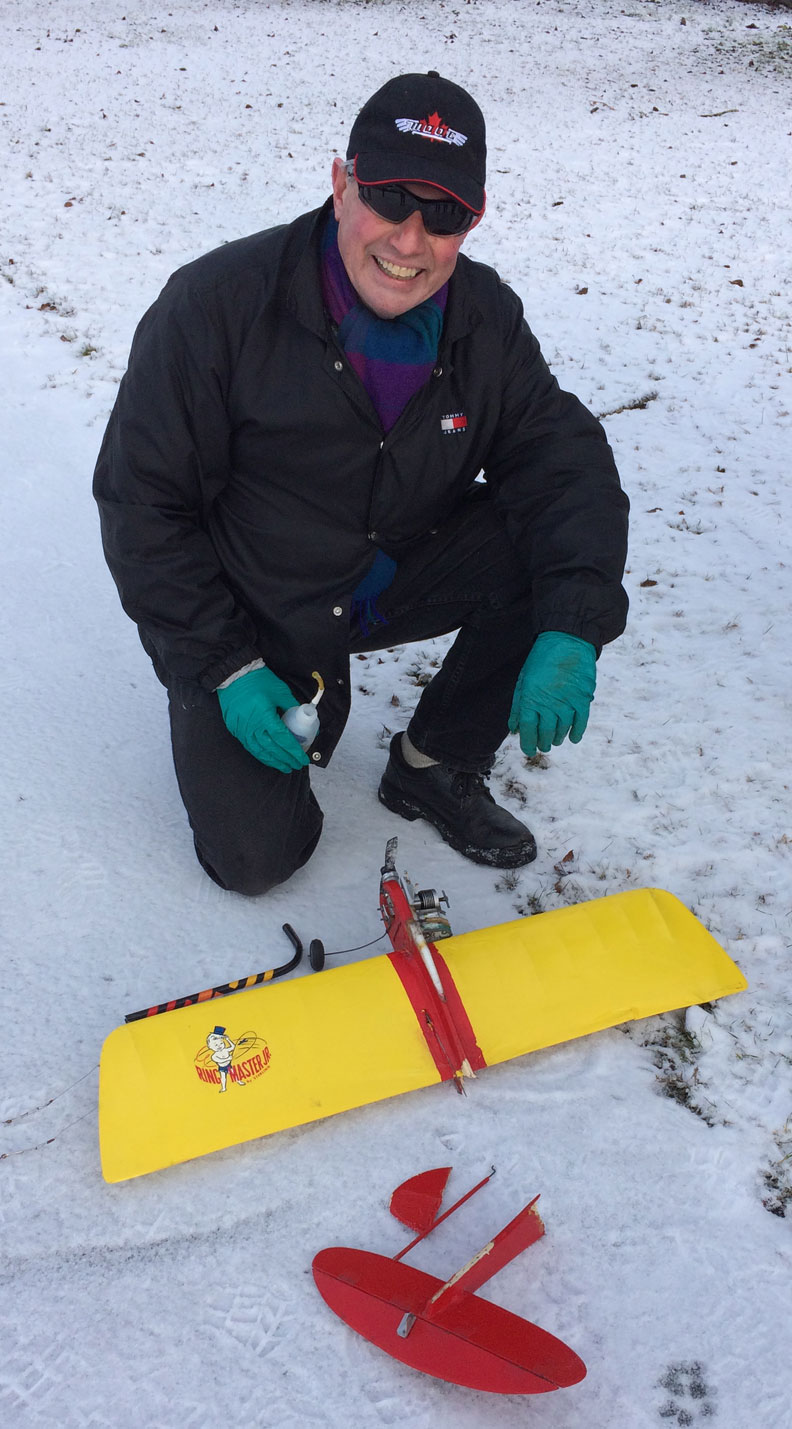 Well, that frozen ground is hard, as Denis Cousineau found out. Chris Cox photo.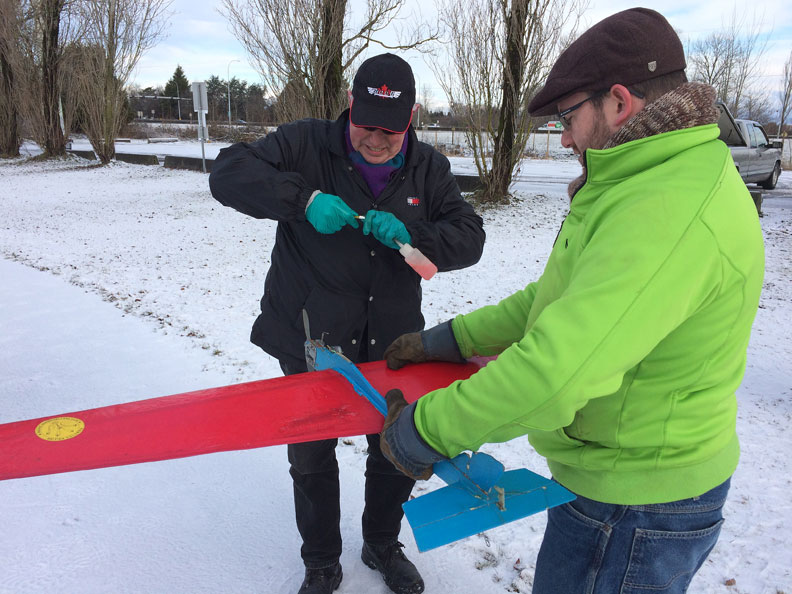 Crash? Just get another plane -- and Denis is ready to go again. Chris Cox photo.
As is often the case at fun-flies, there's as much talking as flying. Chris Cox photo.
---
This page was upated Jan. 3, 2017