Northwest Control-Line Racing
This page is for information about Northwest control-line model racing and links to racing-oriented web sites.
Your contributions of articles, photos and links for the Flying Lines web site are welcome. Contact the editor.
Articles
New! The ASP .25 for Northwest Sport Race See article
Approved! Two rules changes take effect in 2018 for Northwest Sport Race: ASP .25 added to the engine list and shutoffs legalized See article
<< New! Strong turnout for 2017 Portland Northwest Sport Race contest See article
A primer for beginners in the Northwest: see Racing made easy, in the Fast Laps column
Weather clears for 2016 Delta Park Northwest Sport Race See article
2014 Northwest Speed & Racing results See article
Rules change allows O.S. LA .25 engine in Northwest Sport Race See article in Northwest Rules section
Racing returns to Northwest fall scene at Salem Speed and Racing contest See article
Ken finishes his Geezer Clown! See article
The 345-lap record-setting Flying Clown racer See article >>
<< The new Phantom Racing concept See article
Major changes in AMA racing rules See Round & Round January column
Regular columns
Links
For information on control-line racing in the United States, see the special interest group National Control Line Racing Association web site. NCLRA is the racing special interest group recognized by the Academy of Model Aeronautics. The website includes digital issues of the excellent newsletter Torque Roll.
Your District XI representative on the Academy of Model Aeronautics Racing Contest Board is John Thompson.
For discussion of national racing matters, see the Delphi Racing Forum.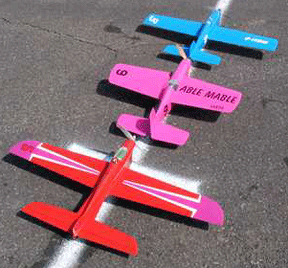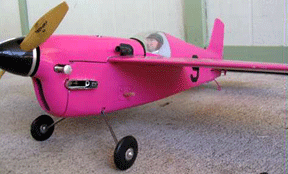 B-Team racers are the glamour girls of control-line racing -- vintage airplanes dressed up in fancy paint as well as tuned for going fast. Here are several views of some contemporary B-Team racers. Dave Shrum photos.
---
This page was upated Jan. 17, 2018